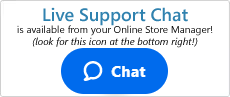 How Do I Get My Domain Released To Me?
During sign up, you are given the option of having Shift4Shop register the domain name for you (if it is available). If you choose this option, Shift4Shop will handle DNS updates and renewals of the domain name for you.
However, if you would like the domain name to be released to you, please submit a ticket to our billing department to begin the process of releasing the domain to you.
---