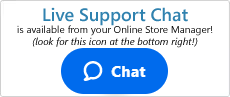 How Can I Get My Shift4Shop Registered Domain Transferred to Myself?
If your domain was registered by Shift4Shop at sign up or during a domain name change, the domain is registered using Shift4Shop's registrar account. This allows us to renew registration and make DNS changes as needed to your domain for you as part of the Shift4Shop service.
However, if you ever decide you would like to take full control over the domain and transfer it to your own registrar, our billing department can assist you with this.
We recommend the following:
Sign up for a GoDaddy Account (It's free!)
Once the GoDaddy account is created
Submit a billing ticket with the following:

Your GoDaddy Account Number
(they may call it Customer #)
The email address used for your GoDaddy account
Your Shift4Shop registered domain name that you'd like to take over management of
Our billing department will then take this information and (after verification of your Shift4Shop account) they will help get the transfer process started for you.
Please Note
The service will incur a $15 transfer fee
---