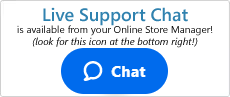 Why am I Missing Settings or Tabs in the Store Manager?
Due to the nature of Shift4Shop, we offer a large variety of options and settings. To help to avoid overwhelming newer merchants, we have decided to not display every single one of these settings by default. Because of this, you may not see certain tabs (such as Advanced) in areas like the Product page. You are able to manually re-enable these settings, however, to have the same settings and features that we provide.
In order to access these settings, log into your Store Manager and go to the Modules screen. On here, the Modules you are looking for are:
After enabling the modules, these sections will appear in the corresponding areas of the Online Store Manager.
---