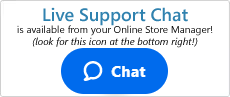 Why Can I See My Created Files and Folders In FTP But Not In The File Manager?
If you use FTP to upload files and create folders in your store's Assets folder, there may be certain times when the file or folder is visible in your FTP but not in your OSM's File Manager.
When files are created or moved via FTP, they typically get indexed daily. Therefore they might not immediately display in the file manager.
You can request an on demand reindexing of the files using the "Index Files" button located at the top of your File Manager. However, be aware that re-indexing may take up to 30 minutes depending on the number of files to be sorted.
---