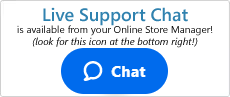 How do I add Google Tag Manager (GTM) scripts to my Shift4Shop store?
If you are using Google Tag Manager for your eCommerce site, you may follow these steps to add the required scripts.
Log into your Shift4Shop Online Store Manager
Using the left hand navigation menu, go to Marketing >SEO Tools
Once you're in SEO Tools, click on the "Google Tools" tab found along the top
This page will contain areas for entering various Google scripting information for your store like Google Analytics and Search Console. At the bottom half of the page, you'll see areas to enter your Google Tag Manager scripts.
Note
If you do not see this section in your Online Store Manager, please contact support so we may enable the section for your store.
Simply mark the "Enable" checkbox and paste your script into the provided fields:
You will have two separate sections for your Google Tag Manager Scripts
Enable Google Tag Manager
Use this section for the regular GTM script
Enable Transaction Data Layer
If you also have Transaction Data Layer scripts created for your Google Tag Manager service, enter it in this field.
Once you are done enabling and pasting the scripts into their appropriate fields, click "Save" at the top right of the page to complete the setup.
---