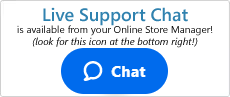 Why isn't my store's USPS First-Class Mail International Method appearing?
During January of 2021, USPS updated their API to include specific shipping parameters for First-Class Mail International. These parameters contain the following restrictions and limits.
Order Weight:


Minimum: 0.01 lbs
Maximum: 4.00 lbs

Order Dimensions:


Minimum: 6"x4"x2" (Length/Height/Depth)
Maximum: 12"x12"x12" (or not exceeding 36" combined)
Individual items or orders falling outside of these ranges will not qualify for First-Class Mail International. Instead, other international USPS shipping methods (i.e. Priority Mail International), will be shown to your international shopper.
Also, it is highly recommended to use Pre-Defined Boxes for your store's shipping calculation. By setting up and using pre-defined boxes for the shipping calculation, the store will be able to calculate properly for items that are smaller than the minimum dimensions or if the order contains multiple items.
---