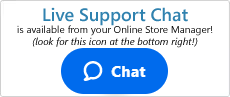 How Can I Use My Own Cloudflare account?
While Shift4Shop's services are behind Cloudflare, we do also allow for merchants to make use of their own Cloudflare account for additional benefits.
Free Account
With a free Cloudflare account you are able to point your domain to us if your DNS is still hosted with Cloudflare. Within your DNS, you will need to create an A-Record. The record information will be as follows:
Type: A
Name: Your website domain name
Content: Either 104.19.177.121 or 104.19.178.121
TTL: Auto
Proxy Status: DNS Only
Once this has been done, your Cloudflare account will not conflict with Shift4Shop's Cloudflare configuration. This ensures that all traffic will route to your store properly.
Enterprise Account
If you wish to use your own Cloudflare security and proxy settings with your Shift4Shop account, it would require having an Enterprise level account with Cloudflare. By having an enterprise account, you are able to make use of Cloudflare's Orange-to-Orange (O2O) service.
The benefits to O2O is that you are able to still make use of our Cloudflare setup, but you can further customize how Cloudflare itself treats incoming traffic to your store. When a customer tries to visit your website, they are directed to Cloudflare's proxy zone where it will first send them to your Cloudflare zone and they are then sent to Shift4Shop's Cloudflare zone before finally arriving at your store.
To make use of this, you will need to log into your Cloudflare account and go to the DNS settings. Within, you will need to create a CNAME record to point to Shift4Shop. The record will be as follows:
Type: CNAME
Name: Your store's domain name
Target: s4shops.3dcartstores.com
Proxy Status: Proxied
Additional Information:
For a detailed list of compatible features and potential limitations, please refer to Cloudflare's Product Compatibility here.
---