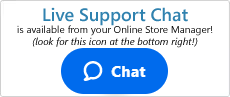 Why am I getting 404 Errors on PayPal Advanced?
Issue
Your customers are getting a 404 error page when they enter their Credit Card number and click "Pay Now" on PayPal Payments Advanced.
Cause
Your PayPal Advanced Return URL is not configured correctly.
When using PayPal Advanced, you are required to enter a "return URL" on your settings in your PayPal Account. This URL must be set as your store's Secure URL. Anything added to or other than the store's Secure URL will cause problems.
Please be sure to follow the steps outline here for proper set up of PayPal Advanced on your Shift4Shop store.
---