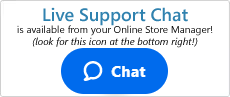 How Do I Add Zip Pay To My Shift4Shop Store?
How Do I Add Zip Pay To My Shift4Shop Store?
To add the Zip Pay payment method to your store, use the following steps:
Note
These steps will also apply if you are using Zip Money which uses the same module
Log into your Shift4Shop Online Store Manager
Using the left hand navigation menu, go to Settings >Payment
Once at the Payment Page, click on the "Select Payment Methods" button
Locate the "Payment Methods" section and click on the "Add New" button at its top right corner
Next, use the "Payment Method" drop down menu and select "Zip Pay" from the list
Configure the rest of the Payment module's regional, order amount and customer group settings as needed.
Click "Add New" to add the module.
At this point, the module is added to the store, but you will still need to enter your credentials for it.
You will see the following settings on the module:
Caption
This is the label that is shown for the payment method. By default it will say "Online Credit Card" but you may change it as needed by clicking on the pencil icon.
Test Mode
When marked, this checkbox will put the module into test mode which allows you to use a credit card to connect to the gateway, but not actually charge the credit card. Just remember to unmark the checkbox when you're ready to take live transactions!
Merchant ID
Use this field to enter your Zip Pay Merchant ID. This is information provided to you by Zip Pay
API Signature
Here you will enter the API signature key that is provided to you by Zip Pay. Click on its pencil icon to enter your API Signature key
Note
The combination of Merchant ID and API Signature keys will identify whether you are using Zip Pay or Zip Money. This will be listed in the "Detected Product" section. The refresh button can be used if in order to re-detect the applicable Zip Pay/Zip Money product.
Once you have entered your applicable credentials, click on the "Save" button located at the top right of the page. Your payment method is now added to the store and ready for use.
---