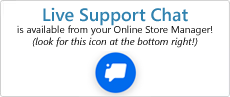 How do I Synchronize Products with the POS App?
---
Synchronizing Products
To process orders on the POS App, you will basically select items via the app to create an order and then use the App to further complete and process the order in person. We'll cover this whole process in a moment, but first we need to get your products to the App.
After your initial connection to the store, the POS App will simply import the Store's name information. To get your store's products into the App, we'll need to synchronize the App to the store.
While using the POS App:
Tap the menu icon located at the top left of the interface
Next, tap on the "Sync Status" option.
You will be presented with the following synchronization options:
Order Upload
This option will take your POS generated orders and send them to your Shift4Shop store for centralization, archiving, and follow up as needed
e-Mail Upload
When receipts are emailed, they are not sent from your iPad device, but rather from the Shift4Shop store.
This Synchronization option will take new receipts from the POS App and sychronize them to your store for the actual sending.
Additional Information
Since the emailed receipts are being sent from your store, they will reflect the store's configured "From" and "Reply To" address designations
Product Download - Full
This option will import all of your products from your store and insert them into the POS App.
Product Download - Partial
This option will import only your products which have been updated since the last full synchronization.
Note:
For subsequent product downloads (both partial or full), if the product no longer exists in your store, then it will also be removed from the POS App
Each of the above options will synchronize at regular intervals. However, you can also use the "Force Synchronization" button at the bottom left of each section to manually initiate a synch as needed.
We'll go over each of these in more detail, but for now, we'll concentrate on getting products from your Shift4Shop store over to the POS App.
To download your store products to the POS App:
Tap the "Product Download - Full" option
Tap "Force Synchronization" to begin the transfer.
Products will begin transferring to your POS App
Note
Depending on how large your store is, this process may take some time.
Also, be aware that you may need to refresh the orders view to see your newly downloaded products in the app.
---