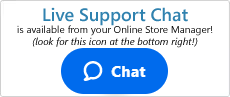 How Do I Add First Data's Global Gateway e4 as a Payment Method?
This article will detail how to integrate your store with the First Data Global Gateway e4 (GGe4) payment gateway.
Additional Information: Shift4Shop's Integration with First Data Global Gateway e4 supports the following transaction types:
Authorization
Purchase
Capture
Void
---
Gathering your Global Gateway e4 Credentials
To add GGe4 to your store, you will need the following credentials from First Data:
Gateway ID & Password
API HMAC Key
API Key ID
To retrieve this information, please refer to First Data Global Gateway e4's documentation
---
Adding the Online Payment Method
The Next step in the proccess will be to add and confirgure the GGe4 module to into your Shift4Shop store.
Log into your Shift4Shop Online Store Manager.
Using the left hand navigation menu, go to Settings >Payment
Once there, click on the "Select Methods" button under Payment Methods
Click on the "Add New" button at the top right of the page
Using the Payment Method drop down, select First Data Global Gateway e4.
Specify your parameters such as Country/State, Min/Max Order amount, and Customer Group that will be applicable to this payment method
Click "Add New" on the modal to have it added to the store.
After the Payment Method is created, you can enter your account specifics retrieved in the earlier steps by clicking on the "Settings" link listed within the payment method.
---