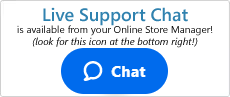 My domain is transferred over. Why is my store still going to the shared URL?
Issue
After updating DNS and confirming that the domain is properly transferred over to Shift4Shop, the store is still redirecting to the temporary *.s4shops.com or *.3dcartstores.com URL.
Cause
The store is still set with the temporary address as its main URL
To correct this, you'll just need to update the Store URL in your Shift4Shop settings.
You may do this by using the following steps. From your Online Store Manager go to:
Settings >General >Store Settings
Click on the "Store" tab along the top of the page
Look for and change the "Store URL" to reflect your transferred domain (ie. http://www.yourwebsite.com)
Note
If you have a dedicated SSL certificate applied to your Shift4Shop stores as well, you can make the same change to the "Secure URL" field on the page. Just be sure to use the proper https:// prefix since it's for your store's secure pages.
---