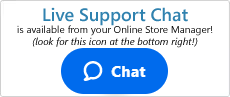 How do I add Chase PaymentTech / Orbital Gateway to my Store?
Setting up PaymenTech Orbital Gateway
Paymentech Orbital Gateway has 2 pieces of information that are used to authenticate your website with your
account.
Merchant ID/Group Number
BIN # (Usually it is 000002 for everyone but check with Paymentech Support first)
To configure your store's PaymentTech Orbital Gateway module:
Log into your Shift4Shop Online Store Manager and, using the left hand navigation menu:
Go to Settings >Payment and click on the "Select Payment" button under "Payment Methods"
Click on the "+Add New" button found along the top right of the page
Configure the payment option's ranges and limitations as needed
Choose Paymentech Orbital Gateway in the Payment Method dropdown.
Click +Add
The payment option is now added to the store, but you will still need to configure its settings to make sure it works properly.
Find the newly inserted Paymentech option, and click on its "Settings" link
Type your group number into the Group Number field.
Click the "change" symbol next to Bin, and type in your Bin Number.
OPTIONAL: You can also toggle your settings for "Authorize Only" and "Verified by Visa" if needed.
When your settings are configured, click Save at the top right
Additional Information
One more step is necessary. Paymentech requires that they have the IP address of the server that is going to be making the calls to their system.
To get this IP, please submit an email to [email protected] asking for your server IP for Paymentech. A Shift4Shop technician will respond with the IP and you can pass that along to Paymentech support to have it configured.
Once done, click the Test button in the online methods section of Shift4Shop. If Paymentech is integrated properly, you will receive a declined transaction in your Paymentech account.
---