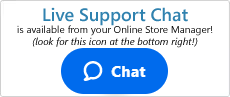 What is the correct PayPal Payflow Link Username Format?
Please note
The following information is for legacy users of PayFlow Link who have had a PayPal PayFlow link account set up for some time now.
If you are a recent purchaser of a PayPal PayFlow Link account, then you will likely also have access to a login for the http://manager.paypal.com interface. If so, please use the integration instructions outlined here instead.
When setting up your PayPal Payflow Link payment gateway, be sure to enter the username in the following format.
The merchant ID
is given to you when you sign up with PayPal Payflow Link services
The partner
will usually be listed as "paypal."
Note
If you were signed up with Payflow Link services under a different partner than PayPal, then edit your username accordingly.
---