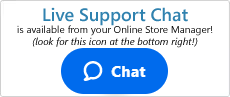 Notice Regarding Back Up Withholding for 2023
By law, the IRS requires all processors withhold daily deposits of any merchant that does not having a matching TIN (Federal Tax ID Number) or Legal Name at the IRS itself. This is a requirement by the IRS, and not initiated by Shift4. The start date for this is December 4th, 2023.
Backup Withholding occurs when the IRS has identified a merchant has a mismatch of information on their end compared to what we have on file here. This includes:
Mismatch on TIN (Tax ID Number)
Legal Name which does not match the TIN or Legal Name at the IRS
If a mismatch does occur, then the processor is required to withhold 24% of daily deposits. There could also be additional fees if the merchant's physical address is in California, Vermont, or Maine.
The IRS will then notify us, and we will send out a formal notice to any merchants affected by this. This will go to the email we have on file for your Shift4 Payments Account. The start date for Back Up Withholding is 12/4/23. To opt out, merchants will need to supply the proper tax paperwork and funds will be released.
If you have received a notice from our team, you will need to submit either a W9 form or a 147c form. If this is your second notice, it may also ask for additional information specified in the email. The email that was sent to you will contain a unique and personalized link to our tool that will allow for you to do so.
Once this information has been submitted, it will be reviewed by the Shift4 Account Maintenance Team. Please allow up to 7-10 business days for submissions to be reviewed.
Additional Information
For more information on backup withholdings via the IRS, please see their site here.
Once your submission has been approved, you will automatically receive an email notification from Shift4 informing you of this and that your account has been released from any IRS withholding.
If any information is missing, you will also receive an email notification informing you of this. It will advise what is still required to properly update your merchant account to be released from any withholdings.
Important
Please note that the email notification sent to you will contain a unique link to submit your documentation. This means that if you require assistance submitting them it would require you to forward this email to the appropriate agent assisting you.
---