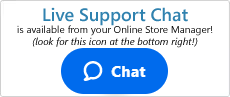 How Do the Comparisons on the Dashboard Work?
When you log into the Shift4Shop Online Store Manager, you will automatically be taken to the Dashboard page. The dashboard offers an Overview section that offers a quick look at various statistics of the store, such as orders, sales, and visitors.
When viewing the dashboard, you will also notice that these statistics have arrows next to them pointing up or down. This is to show a change (whether that's positive or negative) over a period of time so you can easily see where your store's business is standing.
You can control the period of time used for these statistics by using the dropdown menu to the top right of the Overview section. This will display the statistics for that specific timeframe, and it will also show how they compare to previous information. The change in statistics will always be based off of the timeframe selected. This means that if you select Last 30 Days then the statistics will be compared to 30 days before this. Likewise, if you have it set to This Month, it will display the month's statistics so far and compare it to the previous month at the same point in time. This means that if you are 13 days into a month, it will compare it to 13 days into the previous one.
Note
Please note that statistics and other information found on here may not update immediately. Please see here for more information.
---