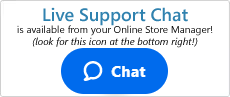 How do I Use the Cloudflare Image Resize Tool?
Shift4Shop utilizes Cloudflare to dynamically optimize and resize images. Previously, the options to control this process were not available to merchants and were only configurable by Shift4Shop's team. But we have implemented a new feature within the Store Manager to allow merchants to tweak these settings to better suit their own needs.
To access these settings:
Navigate to Settings > General > Store Settings
Go to the Display Options tab
Look for Cloudflare Image Resize beneath the Product Page settings
Cloudflare Image Resize Settings
Image Format - This feature controls the format used for images after resizing. You have the following settings to choose from:
Image Quality - This setting controls the quality of the image itself. This is user defined on a scale from 1 to 100, with higher values resulting in a higher quality image. The default setting is 85.
Sharpen Image - This setting allows for you to sharpen the image to make it appear less soft overall. This is a user defined setting on a scale from 0 to 10, with 10 being the sharpest setting. The default value is 0.
Default Background - This setting controls what occurs if you are using an image without a background. You can choose to either have it display a transparent background or have it display a solid color instead. For colors, you have the option to either enter in the name of a color (such as red or blue) or you can use a specific hex code to select a more specific color. The default setting is transparent.
NOTE:
There are also toggle switches by each setting so you may turn them on or off. When disabling any of these settings, the system will still remember your choices. So this means if you set a custom Sharpen value and disable this setting, the system will still remember your selection if you decide to re-enable it.
There is also an image preview to the right of these settings. Here, you can use the Browse Image button to select an image from the File Manager and preview how these settings will affect it. This lets you better observe how any changes will impact your images across the store.
---