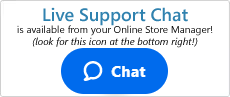 Knowledgebase
What can I find in the Store Module section?
Below is a reference of the individual modules located in your Store Modules page. This page can be accessed by logging into your Shift4Shop Online Store Manager and going to Modules in the left hand navigation menu .
When viewing the Store Modules page, you will see a listing of all the modules available for your store. Along the top of the page, you will also have a search bar that will help you search for a specific module as needed.
Tip
In most cases, when enabled, the module's icon will be brightly colored, while disabled icons will be grayed out.
What follows is a listing of the default modules available on the page. Wherever applicable, we will provide links to articles and tutorials referencing these modules. Please note that several of these modules are for 3rd party services that may require additional fees paid to those individual 3rd parties for their service.
Note
When purchasing Shift4Shop Add-Ons like 3dBoost and others, these will be listed in the modules page as well. Therefore, your specific store may have additional modules not listed in this article.
---
3dFeedBack
If you'd like to use your store's built-in 3dFeedback module, this is the section where you will find the special javascript code that will be needed for your site pages. More information on 3dFeedback can be found here
Abandoned Carts Notification
You can use this option to email customers with uncompleted orders or otherwise abandoned carts. The email could be used to determine what - if anything - kept them from completing the order. Additional Information on this feature can be found here.
Abandoned Cart Saver
(Available on Plus Plan or higher)
Allows you to create and manage email campaigns that will be sent to shoppers with uncompleted orders. Additional information can be found here
Address Validation
(Included with End-to-End eCommerce Plans)
The Address Verification add-on will check the domestic destination address using the USPS address matching system and will display the correct shipping address to the shopper during checkout. Thereby taking care of any typos and format issues according to USPS standards to avoid delivery delays. More information on using this add-on can be found here.
Advanced Statistics - Products and Customers
This module will allow you to turn on performance statistics for both your individual customer records and products. When enabled, you will have new Stats tab available in each customer record when viewed from your online store manager. You will also have a Stats tab added to individual product records as well. For more information on the information shown in these tabs, click here (for customer stats) and here (for product stats).
Affiliate Program
If you plan to use the customer Affiliate Program, this is the section where the settings will be specified.
Amazon Integration
This module allows you to import your processed Amazon Seller Central orders directly into your Shift4Shop store for reporting and centralization. For set up information, please click here.
AutoResponder
(Available on Pro Plan or higher)
This section will be used to enable and configure your store's Autoresponder functionality which can be used to send out an email campaign based on your store's Automation Rules tasks for orders. For our tutorial on this function, please click here. Within this module, you will also find settings for the store's Automation Rules
Avalara
If you plan on using Avalara for your automated tax calculation, you will find the settings in here.
AWeber Integration
You can integrate your Shift4Shop store with Aweber with the settings found in this module. Click here for more information
Back In Stock Automated Notification
(Available on Pro Plan or higher)
If using the store's Waiting List function, this module will allow you to control the automated email that is sent when items are restocked and available for purchase.
Blog
Allows you to enable or disable your store's built-in Blog feature.
Bongo Checkout (aka FedEx Cross Border)
Click here for more information on setting up Bongo Checkout for your store.
Checkout Additional Fees
(Available on Pro Plan or higher) This module allows you to offer additional upsell options by presenting additional and optional fees to customers at checkout. Click here for set up instructions
Settings: Advanced General Settings - Checkout Questions
Allows you to enable or disable your store's built-in Checkout Questions feature.
Customer Relationship Management (CRM)
In a previous article (located here), we discussed CRM as it relates to your individual customers as well as your store's Contact Us form. You can also read our CRM tutorial (available here) for more in-depth information. This module is where you will enable CRM itself.
Daily Deals
Here is where you will find the options for setting up Daily Deals on your store. More information on this feature can be found here.
Data Privacy Toolkit
Merchants needing to set up their stores to adhere to Data Privacy Regulations (such as GDPR and CCPA) can use Shift4Shop's Data Privacy Toolkit to facilitate the process. Click here for additional information
DKIM
Here is where you can set up your store's Domain Keys Identified Mail capability. Click here to learn more.
Doba
This module will allow you to set up the Doba Connector for your store.
Drip Integration
Allows you to integrate your store with your Drip account/service
eBay
Allows you to list your Shift4Shop store's products directly onto eBay where the products may be auctioned or bought outright using eBay's Buy it Now options. Furthermore, as your products are ordered on eBay, the orders can be sent to your Shift4Shop store's Online Store manager where you can process the orders from one centralized location
eFulfillment Service
If you are using EFS as your fulfillment service, you can find the settings here. For more information read our eFulfillment Service integration tutorial here.
Email a Friend
The checkbox found in this module will allow you to enable the store's "Email a friend" function which will add a button to each product listing that will allow visitors to recommend the item to a friend.
Endicia
In this module, you will find options for exporting your store's orders and addressbook for use in Endicia Galaxy to easily create your shipping labels as needed
eProducts
If you plan on using eProducts, you can enable the function here in this module.
Fulfillment By Amazon
If you are using Amazon as your fulfillment service, the settings can be set up in this module. More information is available here.
Facebook Connect
If you have purchased the Facebook Connect add-on, you will find settings for the module here.
Facebook Commerce
(Available on Plus Plan or higher)
This module will help you set up the Facebook Commerce module for listing products on your Facebook for Business account. Additional information can be found here.
FraudWatch
You can use this module to manage your FraudWatch Screening Rules
Gift Certificate With Expiration
If you'd like to set your Gift Certificates to expire, you may do so with this module.
Gift Registry
(Available on Plus Plan or higher)
In a previous article (available here) we discussed the customer Gift Registry. This portion of the Store Modules section will control the Gift Registry functionality.
Gift Wrapping
This module will allow you to set up Gift Wrapping options to each order.
Google Address Autofill
This module allows you to add Google Address Autofill functions to your online store site.
Google Analytics
(Available on Plus Plan or higher)
The settings link found in this module will allow you to integrate your store with Google Analytics
Google Customer Reviews
The settings in this module will allow you to set up Google Customer Reviews on your online store site
Group Deals
This module will contain the controls for setting up your store's Group Deals. More information on this feature can be found here
Home Specials
Here you can set up the functionality of your store's Home Specials display including random home specials and number of products shown at a time.
Homepage Carousel
This module will allow you to set up and configure your store's Home Page Carousel functionality
Invoice Payments Page
This module allows merchants to create an invoice payment page for their customers. It's similar to a regular order but presented without the need for a customer shipping address and without going through the checkout process. For more information, click here.
Houzz Integration
(Available on Pro Plan or higher)
Merchants who also sell products via the Houzz Home Products Marketplace, can import orders from Houzz to their Shift4Shop store for processing using this module.
Settings: Advanced General Settings - IP Security
Allows you to enable/disable the store site's IP blocking functions. More information can be found here.
Kount
(Included with End-to-End eCommerce Plans)
Shift4 Payment users on the End-to-End eCommerce plan also get Kount fraud protection services enabled on their accounts free of charge.
Mailchimp
The settings found in this module will allow you to integrate your store's Order and Customer feeds to the Mailchimp Newsletter service.
Mailing List
The checkbox found in this module will allow you to toggle the "Subscribe to Our Newsletter" subscription form on your site's main pages.
Make An Offer
(Available on Plus Plan or higher)
Here you will be able to configure the store's Make an Offer feature which allows you to offer your customers the ability to "haggle" on individual product prices. More information on this feature can be found by clicking here.
External SMTP Server
If you have an external SMTP server that you would like to use for your store's webserver emails, this module allows you to enter server and login information. Click here for instructions
Monsoon Stone Edge
Use this module to integrate your store with the Monsoon StoneEdge Order Management Suite.
Multiple Ship To
In a previous article (viewable here) we covered the Multi Ship-To function which allows your customers the ability to have all or part of their order shipped to separate addresses. This portion of the Store Modules section will allow you to enable this feature.
New Releases
Use the checkbox found in this module to toggle and control your store's New Releases display
Order Quotes
(Available on Pro Plan or higher)
Allows you to configure the store's Order Quotes Module. Click here for more information.
PO System
(Available on Plus Plan or higher)
Here, you will find the store's Purchase Order settings.
Pre-Ordered Items
(Available on Pro Plan or higher)
Allows you to take orders and payment for items that are not yet available. Click here for instructions on how to use the module.
Product: Advanced Settings - Options
Allows you to enable or disable your store's ability to add product options.
Product Upsell
Allows you to enable or disable the Related & Upsell items functions of the store.
Product: Advanced Settings - Discount
This module allows you to enable or disable the store's Bulk Pricing functions
Product: Advanced Settings - General
This module will turn on the Advanced Tab on your products (in the control panel), which contains various settings for managing and displaying your products. Click here for more information.
Product Reviews
In our Product Reviews article (click here to read) we discussed how you can allow your customers the opportunity of posting reviews of products they've ordered from your store. This portion of the Store Modules section is where you will be specifying these settings.
Product Comparison
(Available on Plus Plan or higher)
Here's where you can enable and configure the Product Comparison module
Product Question & Answers
(Available on Plus Plan or higher)
To configure your store's Product Q&A functionality, look within this module.
QuickBooks Plugin
Here is where you can begin setting up and configuring the Shift4Shop QuickBooks Connector Plugin
Quick Search
Use the checkbox here to turn on and configure the store's Quick Search functionality.
Quick View
Use this module to turn on the store's QuickView feature.
reCAPTCHA™
If you'd like to use reCAPTCHA for the store, you can set it up here.
Recently Viewed Items
Use this module to set up and configure the store's Recently Viewed Items function.
Recurring Orders
(Available on Pro Plan or higher)
This module allows you to set up the Recurring Orders (AutoShip) functions of the store.
Related Products
The settings found in this module will allow you to enable random related products to all of your items instead of manually setting up your own related items.
REST API
Here you'll be able to see which REST API apps you currently have connected to your store.
Return Merchandize Authorization (RMA)
If you would like to process returns and exchanges on your store for customers, you can use Shift4Shop's RMA feature. For more information on the RMA function, please review the RMA tutorial located here
Reward Points For Customers
(Available on Plus Plan or higher)
The rewards points program is a purchase incentive system that allows you to offer points to your customers for every dollar they spend in your store. More information can be found here
RSS Feeds
This module will allow you to enable or disable your store's RSS feeds.
Sales Representative Tracking
(Available on Pro Plan or higher)
Allows you to set up and configure the store's Sales Representative Tracking module.
Saved Carts
This module will control the store's Saved Carts feature
Scheduled Promotions
(Available on Plus Plan or higher)
Allows you to have individual products placed at a sale price for a specific time frame. Alternately, the module can be used to have the store apply coupon promotions automatically to all orders within a set period of time. Click here for more details
Scheduled Scripts
Your store will have a variety of scripts that run at scheduled intervals. Within this module you can review and see the active scripts.
SEO Traffic Analytics
Allows you to view the store's live SEO traffic stats on Product, Category, Blog and Extra Pages. Click here for more information.
Square POS
This module allows you to set up the Square POS App with your store.
Store Search
Use this module to toggle and configure the store's Search functionality.
Store Search - Advanced
(Available on Pro Plan or higher)
This module allows you to provide faceted searches on your store front. When a user performs a search via keyword and multiple results are shown, the store will display filters on the page which can be used to drill down the number of results. Click here for more information.
Shareasale
Allows you to add Share-a-Sale's tracking conversion script onto your store's checkout page. Click here for details.
Shipment Delivery Notification
(Available on Pro Plan or higher)
The Shipment Delivery Notification module will send automated emails to your customer when their orders are marked as "out for delivery" from the shipping carrier, and when it the order is marked as "delivered" to its ultimate destination. More information and set up details can be found here.
ShipWire
If using ShipWire for your order fulfillment services, you may control the integration here.
Show Delivery Estimate
(Available on Pro Plan or higher)
This module will let you have an estimate displayed on your products showing your shoppers when the item could potentially ship to them. Setup details can be found here.
Store Credit
(Available on Plus Plan or higher)
Allows you to issue credit to your customers that will be applied to their next order automatically. For setup details, click here
Top Sellers
This module will allow you to turn on and set up the store's Top Sellers display option
TradeGecko Integration
Allows you to integrate the store with TradeGecko.
VISA Checkout
Integrate your store with the VISA Checkout digital wallet service.
Waiting List
(Available on Pro Plan or higher)
If using the store's Waiting List function, this module will allow you to review the store's current Waiting List items
Webhooks
Allows you the ability to create and use webhooks for your online store website.
Wefulfillit Service
If using Wefulfillit as your store's fulfillment service, this module will let you set up the integration.
Wish List
In a previous article (located here) we discussed the Wish List option. This portion of the Store Module page will allow you to enable the function.
WorldShip
Access and configure your store's WorldShip options in this module.
Zapier
With this module, you'll be able to create events for your Zapier "Zaps"
Extend.com Integration
This integration will allow you to sell Extend.com Warranty contracts directly from your product pages.
---