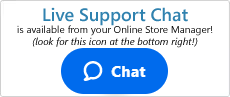 Is it possible to perform a partial refund from the Shift4Shop admin?
At present time, only a few of our available payment gateways are able to allow partial refunds from the Shift4Shop Online Store Manager. These are Shift4 Payments, PayPal Express, PayPal Pay Flow Pro Link, & PayPal Advanced.
When an order is placed using either of these payment gateways:
Log into your Shift4Shop Online Store Manager and open the order to view it
Look to the "Transactions" section at the bottom of the order to view the collected charge
Then, look to the far right of the transaction and click on its Action Wheel to select "Transaction Details"
Click on the Void/Refund button to continue
When clicking this button, you will be given the option to add the amount of the refund to put back on the charged card. This can be either the full charged amount or a partial of the amount.
Again, the only payment gateways that allow partial refunds are the ones mentioned here. To process partial refunds on the other payment gateways, you will need to log into your respective account with the gateway to partially refund the transaction.
---