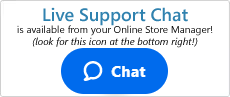 Knowledgebase
How do I integrate the USA ePay Payment Gateway to my Shift4Shop Store?
Note
This article assumes that you already have an account with the USA ePay gateweay. If you do not have a merchant account, please click here for information about Shift4Shop's Merchant Account integrated payment solution.
To integrate USA ePay with your Shift4Shop store, you will need to retrieve a source key from your USA ePay account. The following are the basic steps needed to retrieve this information.
Log into your USA ePay Manager by going to: https://www.usaepay.com/login
Once you log in, click on Settings
Click on Source Keys
Click on Add source
Under name, enter "3dcart"
Enter a Pin number for your Source Key if desired*
Additional Information
*The pin number provides added security for your payment module's source key, but it is optional for the most part. However if you plan to use USA ePay's tokenization system (where you can save the credit card details for future transactions) the Pin will be required.
Leave all other settings as they are.
Click apply.
The KEY will be displayed under the source name.
Tip
The key will look similar to the following:
XXJ2ozw215GmlX9675kYE1p1SZ9jDWX
Once you have your USA ePay source key, you will use it to add the USA ePay Payment Module to your Shift4Shop store. The following are the basic steps for this process:
Log into your Shift4Shop Online Store Manager
Go to Settings >Payment and click on the "Select Payment" button under "Payment Methods"
Click the "+Add New" button found along the top right of the page.
Configure your payment method's ranges and limitations and choose USA ePAY in the Payment Method dropdown.
Click +Add to add it.
The payment option is added to your store, but we still need to enter your credentials to it and enable it so that it works properly.
Look for the newly inserted USA ePAY section under "Additional Gateways" and click on its "Settings' link found to the far right
Type your Key into the SourceKey field.
Enter your "Pin" if created (See step 6 above)
Click Save at the top right.
Repeat step 6, and click on the "Test" link to make sure the payment gateway is integrated properly.
Additional Information
If the payment gateway is integrated properly - upon clicking the "Test" link - you will see a declined transaction in your USA ePAY account.
Along with the settings shown above, you may also notice toggles for Payment module tokenization, Verified by Visa, and Authorize Only. These settings are only to be used when you have the feature available on your payment gateway account or through a separate service. For example, Verified by Visa is a separate service provided through Cardinal Commerce.
---