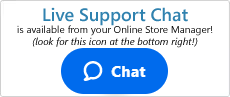 Can Promotions be Created for Customers with Reward Points?
For stores on the Plus plan and higher (including the Free End-to-End eCommerce Plan), Shift4Shop allows you to create promotions that will apply to customers with a range of reward point amounts that you specify.
This can help you attain frequent shoppers by giving your customers incentive to purchase more from your store in order to raise their reward points. Then, those reward points that they accrue can be used to trigger your special promotions.
To use this function, you will first need to turn on your store's Rewards Points program.
Log into your Shift4Shop Online Store Manager
Using the left hand navigation menu, go to Modules
When you get to the Modules page, use the search bar at the top to search for "Reward Points For Customers"
Note
Only plans on Shift4Shop Plus Plan and Higher will have this module.
If the module is not enabled, click the "Settings" button on the module
Place a mark in the "Enable Rewards" checkbox.
Configure your additional Reward Point settings as desired*
Click "Save" at the top right.
*Additional Information
For complete information on the reward points program and its settings, click here.
Once you've enabled the Reward Points module, You'll have a new setting in the Promotion Manager that will let you specify a range of reward points that will make customers eligible for the promotion.
---
Promotion Manager
To see the new setting:
Using the left hand navigation menu, go to Marketing >Promotion Manager
Once there, click on "Add a Promotion" at the top right to create a new promotion
(or click on an exiting promotion to edit it)
Additional Information
For complete information on using the Promotion Manager to create promotions, click here.
When creating or editing a promotion, look in the Promotion Rules section. There will be a new setting here labeled "Reward Points" where you can specify min and max points to set a range.
If/When a customer has accrued enough reward points to be within the ranges you specify, the promotion will trigger for them.
Tip
Although the points the customer has accrued are being used to qualify the user for the promotion, the customer will still retain their points when they complete the order. Furthermore, they will even accrue new points with their order.
This allows you to create multiple tiers of Reward Points based promotions on your store to further encourage frequent orders from the customers.
For example:
Tier 1 promotion to give customers with 500 to 999 points a 15% discount
Tier 2 Promotion to give customers with 1000 to 1500 points a 25% discount
and so on.
---