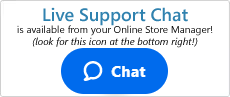 How Can I Request a Site Restore?
There may be times when you need to revert to a backup of your store. For example, perhaps you need to recover an item, customer record, or even an order that was mistakenly deleted or edited by you. In other cases, it might be due to a case of DiY HTML edits that didn't go as planned. Whatever the case may be, the information can typically be restored from a database back up.
If you would like to request a site restore, you may do so here: Restore from Backup
During the Restore order process you will be asked for your domain and the details of what you need restored (including time frame and reasons for the restore).
Important
Please note, that a site restore is typically a full database backup restore. In most cases, a restore will overwrite any current data present on the store that takes place after the requested restore time-frame. In other words, orders, customers, products and other details added to the store after the restore point will be overwritten.
---