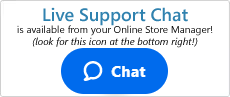 I set up my Facebook Ads Onboarding, but I don't don't see my products.
When setting up the Shift4Shop Facebook Ads Integration, you will first need to go through an onboarding process that will let you connect your store to Facebook's Ads service. However, some additional time will be needed for your products to appear on Facebook. As described in the set up article:
Important
At this point, the Onboarding Process itself is completed.
However, please be aware that your product upload file is still being generated and prepared to be sent to Facebook. Therefore, you may not be seeing products uploaded to your Facebook Catalog Manager just yet.
Please allow up to two hours (depending on the size of your catalog) for the file to be generated and uploaded to your Facebook Catalog Manager. Once this time has passed, you may click on the Settings button at the top right of the Module Settings page to go back to the Facebook Ads popup which will have links available for you to Fetch the upload file and/or review your uploaded product data.
Please also note that - by default - Facebook will re-fetch your product file once a day. However you may change this frequency to a minimum of hourly increments in your Facebook Catalog Manager settings.
Once the product feed is generated and products are listed in your Facebook Catalog Manager, you will be able to begin creating your ads. Please refer to Facebook's documentation for information on creating and using the ads.
---