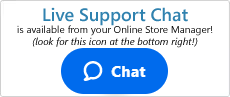 How do I add the CCAvenue India Payment Gateway to my Shift4Shop Store?
To add the CCAvenue India Payment Gateway to your Shift4Shop store, follow these steps:
---
Adding your Payment Module
Log into your Shift4Shop Online Store Manager
Using the left hand navigation menu, go to Settings >Payment
Click on the "Select Payment" button located within the "Payment Methods" section
Click "Add New" at the top of the page
From the Payment Method drop-down menu, select "CCAvenue India"
Configure your Country, State, Order Amount Ranges and Customer Groups applicable to this Payment Method as needed.
Click Add New when complete
The above steps will add the payment method to your store. The next steps will be to configure the payment module to work with your payment gateway account.
---
Configuring your Payment Module
Scroll down to the newly added payment method
Enter the Customer ID information for your CCAvenue India account.

Additional Information
You may click on the action wheel and "Advanced Settings" to edit the Caption, Order Status, Description and Confirmation Msg. fields as needed.
Click the "Save" button at the top right when finished
Your store is now integrated with CCAvenue India
---