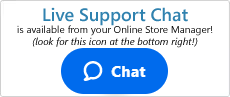 How do I link my domain name to the webstore?
The following steps will outline how to connect your domain to your Shift4Shop web store.
Primary Domain
When you sign up for an account with Shift4Shop, you are asked for a domain name. We ask for this information so that we can create your store's specific DNS Zone File.
When specifying your domain during sign up, you are asked whether the domain is already registered ("I own this domain") or if you would like for us to register it for you ("Register my domain FREE").
Tip
If you select for us to register the domain, we take care of registration and yearly renewals free of charge! We also take care of pointing the domain to your store, so this article will not apply to you if we registered the domain for you.
If the domain name is already registered by you, then the following steps will help you point it to your Shift4Shop store.
Log into your Shift4Shop Online Store Manager
Using the left hand navigation menu, go to Settings >General >Store Settings
Once there, look under the "Store Logo" field where you will see a button labeled "Manage Domain & Store URL"
Click this button and you will see the following page:
As shown in the image above, the page will contain a section at the top for the Primary Domain. This section will contain your *.s4shops.com URL and your regular store domain along with a label indicating which one is currently active.
If the domain's status is blank or says "Not Active" this means that the domain isn't yet connected to your Shift4Shop store.
Click on the "Change Store Domain" button
Enter your domain name to begin the connection process
*Note
Since, the domain was not registered by Shift4Shop (it is instead owned by you separately), you will need to update your DNS to point your domain to the Shift4Shop store.
Typically, you will simply need to go to your domain's registrar (i.e. GoDaddy, Register.com, etc) and update your domain's DNS to the following nameservers:
DNS1.3DCART.COM
DNS2.3DCART.COM
DNS3.3DCART.COM
Updating your domain's DNS to Shift4Shop's DNS system is the preferred method. However, if you prefer to keep your domain's DNS with it's current DNS provider, there are also CNAME or A Record alternatives that can be used to point your domain over to the Shift4Shop store. Click here for more information.
Once the connect process is completed, the domain will be used for your store's Primary Domain and replace the *.s4shops.com URL. Note however that it may take a bit of time (1 to 4 hours) for the update to finish completely. When the status indicator next to your domain says "Active" you'll be all set.
Additional Information
If you're looking to have Shift4Shop register a brand new domain for you, you can click on the "Buy New Domain" button located at the top right of the Domain Settings page to get that process started.
On the other hand, if you're looking to change your Shift4Shop store's domain name, please click on the "Change Store Domain" button located on lower right corner of the Primary Domain Section to order a domain name change.
---
Security Certificates
The bottom half of the page will show you the active URLs used for your store's Secure Pages.
This is the URL that is used when your store switches to SSL protocol for secure transactions. This will be updated to your actual domain name when you have your own custom SSL certificate registered and installed on your domain.
As part of the Shift4Shop service, you get a free domain validated SSL certificate. However you can also click on the "Order Premium SSL" button, to begin the process of ordering your own Premium or Extended Validation SSL certificate.
Similar Questions
How do I use my domain with Shift4Shop?
Can I use my own domain with Shift4Shop?
How do I use a custom domain for my store?
---