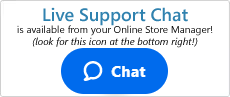 How Do I Process a Refund with PayPal Express?
Important
In order to process refunds using PayPal Express, you must have the proper API permissions set up on your PayPal Account. To ensure you have the proper permissions set, please review and follow the steps outlined in the "Grant API Access" section of our previous knowledgebase article:
How do I setup Paypal Website Payments Pro (with Paypal Express)?
Specifically, you'll want to enable all of the API permissions, except for two of them. These two are labeled "Generate consolidated reports for all accounts" and "Create and modify accounts, and run reports on them" respectively.
To process a refund on PayPal Express orders, follow these steps:
Log into your Shift4Shop Online Store Manager
Using the left hand navigation menu, go to Orders >Manage Orders
Locate the order you would like to process the refund for and click on its Invoice ID number
When the order appears, scroll down to the "Transactions" section where you will see the Date/Time of the transaction, the Type and Method of transaction, and the Amount of the transaction.
Under "Action" click on the action wheel and select "Transaction Details">
A popup window will appear with the ID and Reference informaiton for the transaction. Within this window, there will be a button marked "Refund Transaction"
To continue with the refund process:
Click on the "Refund Transaction" button
Enter the refund amount (if it is a partial refund) or click on the "Total Amount" checkbox to enter the full order amount.
Click "Submit" to process the refund or click "Cancel to leave the window.
The refund will post to the customer's PayPal account.
Note
In some cases, the refund will post the following day. You can check on the refund status from within your PayPal merchant account as needed.
---