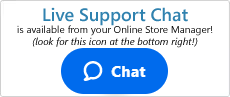 How Do I Enable PayPal Express Checkout on my Shift4Shop Store?
Important
This variant of PayPal is only available on the Shift4Shop End-to-End Ecommerce plan.
For instructions on setting up PayPal Checkout (available on all other plans), please click here.
---
To enable PayPal Express Checkout on your store, use the following steps:
Log into your Shift4Shop Online Store Manager.
Using the left hand navigation menu, go to Settings >Payment
Once in the Payment page, click on the "Select Payment Methods" button
This will take you to the area of the Online Store Manager where you can add or review your store's payment modules. Along the top of the page, you will see the pre-installed Shift4 payment module
Look towards the top right of the Payment Methods section and click on the "Add New" button.
A small popup window labeled "Add New Payment Method" will appear with your preliminary settings.
In the Payment Method field, look at the "Alternative Payments" section and choose PayPal Express Checkout.
Select the Country and State you would like this payment method to apply to.
Choose the Minimum and Maximum order amounts this payment method will apply for.
Choose the Customer Group you would like the payment method to apply for.
Click on the "Add New" button to install the module.
The payment method will now be added. Your next step is to configure its account settings.
Look for the payment method in your list, then look to the far right of it and make sure its toggle is turned to the "On" position.
Type in the email address associated with your PayPal account in the "PayPal Email" field.
Additional Information
At this point in the process, you can also mark the following checkboxes:
Authorize Only
This checkbox will allow the payment to go through as an authorization for the amount of the order, but will not collect payment until you are ready. Click here for more information
Enable Billing Agreement
Select this option if you have reference transactions enabled on your PayPal account which can be used with Shift4Shop's

AutoShip

add-on.
Add a PayPal Credit Payment Button
Select this option to offer PayPal Credit to your shoppers as they purchase from your store. Click here for details.
Once you are done with your settings, click "Save" at the top right to commit your changes.
Your store is now set up to take orders using PayPal Express Checkout.
---