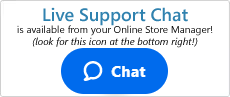 How do I integrate Square Payments with my Shift4Shop Store?
Important This article is aimed at our merchants on our legacy paid plans (for more information see here). This feature is not accessible on our free, End to End plan.
Integrating your store with Square Payments is now possible on Shift4Shop. Here's how!
From your online store manager:
Using the left hand navigation menu and go to Settings >Payment
Once there, click on the "Select Payment Methods" button under Payment Methods
The page will have three sections labeled (from top to bottom):
Recommended Payment Solutions
Payment Methods
Offline Payment Methods
Within the middle "Payment Methods" section, you'll see a button labeled "Add New."
To continue:
Click on the "Add New" button
From the "Payment Method" dropdown menu, scroll down and select "Square"
Specify your payment gateway parameters such as Country/State, Min/Max Order amount, and Customer Group that will be applicable to this payment method
Once you're ready, click "Add New"
The page will refresh and you'll see the Square Payment Method added to your store along with a button labeled "Click to Connect with Square"
Click this button, and you will be redirected to either log into your Square account or otherwise register/sign up for a Square account. Once the connection process is complete, you will be redirected back to your Online Store Manager where you can complete the setup.
The Payment module will also have the following checkboxes that can be configured as needed:
Test Mode
Use this to set the payment option into "Test Mode" so you can process test orders without actually charging the credit card used.
Save the customer information for future transactions
Use this checkbox to utilize Square's tokenization methods for recurring orders.
Note: Be sure that your Square account is set up with the ability to use this feature.
Authorize Only
Use this checkbox to use the payment method's Authorize Only option.
---