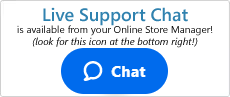 How Do I Set Up an Online Payment Gateway?
Shift4Shop Ecommerce Software allows you to set up online payment methods through merchant account services such as PayPal, Checkout by Amazon or Authorize.Net to process payments online. These payments methods connect to your store through what are known as payment "gateways" and they allow you to accept credit card payments in real time from your Shift4Shop store.
In order to use these gateways, you must first set up an account with the individual merchant account provider. Shift4Shop offers integration with over 100 different pre-integrated ecommerce payment gateways, so you have quite a few options to choose from.
Gateway Types
There are two basic types of merchant account providers:
Redirect:
The first type of Merchant Processors are known as "Redirect Gateways." These are providers such as PayPal Express/Standard and Checkout by Amazon which direct your customers to their respective account login pages in order to process payment. (Hence the term "redirect") After payment is processed through these gateways, the customer is then once again directed back to your store.
Transparent
The second type of Merchant Processors are known as "Transparent Gateways." These are made possible through providers such as Linkpoint, AuthorizeNet, and others which allow the customer to input their credit card securely to the order and go through the processing steps without ever leaving your store. In other words, these gateways do NOT redirect the customer to an external site whatsoever.
Online Payment Method
Go to Settings >Payment
In the "Payment Methods" section, click on "Select Payment"
Click on "+Add New" located on the top right of the page
Specify your payment gateway parameters such as Country/State, Min/Max Order amount, and Customer Group that will be applicable to this payment method
While here, also select the payment method that you'd like to add using the "Payment Method" drop down menu.
Once you're ready, click "+Add"
After the Payment Method is created, it will be added to your store's list of Gateways. You can now click on the "Settings" link for the payment method to enter your account specifics with that particular method. (This will be information you receive from the payment gateway service itself.) Some gateways will use a login username or account ID while others use an account ID combined with a PEM file. Check with your specific merchant provider for more details.
Tip:
If using multiple gateways on your store to offer both redirect gateway options (like PayPal Express) and transparent payments (like AuthorizeNet), it helps to label each payment method's caption slightly different from each other. You can do this by clicking on the "Advanced Settings" button for the payment method (after going into its settings) and updating the "Description" section.
This way, if there is ever a problem with an order due to the payment method, you can tell more easily which payment was being used at the time by viewing it on the order itself.
You can also use the "Advanced Settings" to update the Customer Group and Order Status settings specified when you originally entered the payment method
To see a list of payment gateways we integrate with, please review our listings on our Payment Providers page.
---