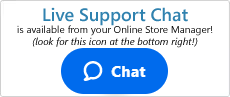 What is Shift4Shop's eBay Integration?
Shift4Shop's integration with eBay allows you to list items from your Shift4Shop store directly onto your eBay account. Once there, items may be auctioned off to the highest bidder or otherwise purchased outright using eBay's "buy now" options.
When items are purchased on eBay, the orders for those items will then show up in your Shift4Shop store for regular processing as normal. Then, after the items are shipped, an automated action will occur that will update the order (on the eBay side) notifying the purchaser/bidder of their order's status.
---
Why Sell on eBay?
As with any ecommerce store, eBay lists items in categories to allow potential buyers the ability to locate products easily. Add to this the fact that eBay is well known - worldwide - and you are suddenly presented with the potential to list and sell your items on a much larger scale than your Shift4Shop store alone.
With Shift4Shop's eBay integration, you no longer have to take your products and duplicate them onto your eBay channel in order to enjoy the additional listing benefits. Furthermore, the orders happening on eBay are sent directly to your Shift4Shop store futher allowing you to streamline your order channels into one location.
---
What are the Advantages?
Features and Advantages include:
Selling on eBay; A world known eCommerce platform
Items are listed from your Shift4Shop store and orders are placed on eBay.
Centralization
Rather than listing the same items in multiple locations, you now have the ability to list items from your Shift4Shop store and process orders for those items all in one location. As items are listed on eBay, inventory for those items is deducted and displayed as being listed on eBay within your Shift4Shop store, thereby providing better inventory management.
Link your existing eBay Store
If you also have an eBay store, you can import your category structure directly to your Shift4Shop store as well to keep both stores more uniform.
Additional Payment and Shipping Options
Items are listed from your Shift4Shop store onto eBay, but the payment and shipping options for those items is handled by eBay. Therfore, this provides you with additional features that may not be available on your Shift4Shop store for example:

Purchase Options
like Auction based pricing or Buy now

For auction pricing, the ability to set starting, reserve and buy now option prices

Payment options
such as PayPal , ProPay & Moneybookers
Shipping fee calculation provided by eBay
Including International Shipping Calculations if you ship internationally
Order Blocking
to Prevent orders from being placed by certain buyers or to certain locations which you don't ship to.

Integration with eBay motors
allowing you to list your car parts and accessories using eBay's catalog of make/model/year categorizations
---
How do I get started?
We've provided the following articles which will help you set up the integration of your Shift4Shop store with your eBay account.
Full How to Article
Our original KB Article written during the beta testing phase.
It is intended for users already familiar with selling on eBay and contains all information on one page.
The articles linked below contain the same basic information in a more compartmentalized fashion with some additional information for less experienced eBay users.
---