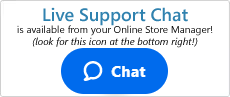 Knowledgebase
Does Shift4Shop Have Responsive Templates?
With the introduction of HTML5 and CSS3, we now have the ability to offer Responsive Design!
---
What is Responsive Design?
Responsive Design is an exciting web page design format that automatically conforms and resizes its design elements to the proper resolution of the browser that is viewing your site at any given time. This means that - regardless of whether your site is being viewed on a desktop or mobile platform - the overall look and feel will automatically conform to the best possible resolution for that viewer!
So while your site may look like this on a desktop:
Someone visiting the same site on a tablet will see this:
While someone on a mobile phone will see this:
Three different views; one responsive theme!
---
Can I make edits to my Responsive Theme?
Yes! However, we strongly recommend having a working knowledge of HTML as well as CSS before attempting any changes to your new theme. (AND MAKE BACKUPS!!!)
---
What if I find issues with a Responsive Theme?
If you find any issues with your newly installed (and unedited) responsive theme, please let us know immediately. Contact Shift4Shop support so that they may leave a ticket on your behalf with the design team*.
*If possible, please provide screenshots and details of any issues you may find (browser, device, page, etc).
Please note that support will not be correcting the issue but rather reporting it to the design department on your behalf.
Also please understand that we will NOT troubleshoot any edits you may have made to the themes. The only issues we will address in these beta themes are issues pertaining to the unedited theme files and issues that may arise from using them. Customizations made by you or your 3rd party designer will not be reviewed as they fall outside our scope of control.
---
Do you offer Design Services for Responsive Themes?
Absolutely! Please contact your Sales Associate if you'd like to request a quote for design services or click here to request a quote today!
---