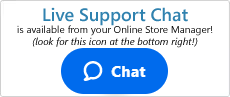 How do I use the Shift4Shop Support Portal?
Shift4Shop has 24-hour support for our merchants. This includes phone, online chat and email support. This article will describe how to open support tickets if you should need us at anytime.
Tip
As of late April 2013, you can now submit tickets directly from your Online Store Manager! Please click here for more details.
---
Submit a Ticket
To submit a support ticket:
Click on Submit a Ticket.
Choose the department you would like your support request to go to.
Click Next.
Type in the domain name relevant to this ticket (necessary for multiple account holders)
Select the topical nature of your ticket's request
Type message of your request and click submit.
Note
Suggestions pertaining to knowledgebase articles will generate as you type your message. Click on the article if it seems it will answer your question immediately.
You will also get a confirmation email detailing your Ticket ID and a link to the ticket where you can check its status.
---
Support Policies
Please be sure to also become famliarized with Shift4Shop's Support Policies before submitting tickets, as there are certain areas and commonly requested subjects which fall outside of the scope of our available support.
---