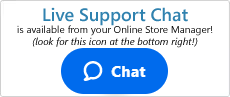 How do I unblock Google Chrome's dialog boxes?
In a previous article, we explained why - after blocking a confirmation pop up on Google's Chrome - you are unable to remove categories from your store.
As explained in that article, the reason the remove functionality stops wokring is because the confirmation popup was disabled. Since the store has no way to confirm the removal of the category after disabling the popup, you are no longer able to remove them.
Fortunately, the blocking of the popup is session based. Therfore, you can simply log out of your Online Store Manager and log back in to create a new session which will reset the block status of the popup confirmation messages.
While the setting in Chrome is useful for blocking unwanted dialog boxes from websites, it should not be used for popups coming specifically from your Shift4Shop store as it can affect functionality as described.
---