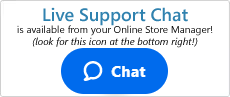 What is FTP and how do I use it?
"FTP" stands for File Transfer Protocol and it is method by which files can be transferred from one host computer to another; over a TCP-based network like the Internet.
In Shift4Shop's case, FTP access is used to transfer your image files, design templates and other site specific files to and from your store's server.
Note:
15-day trial versions of the Shift4Shop software do not allow for FTP access.
---
How to use FTP
What you'll need:
An FTP Client

Your

FTP login Credentials

(Contact support if you do not have FTP login credentials)
Recommendation:
To use FTP, the first thing you will need is an FTP client. This is a program that allows you to connect to a host server's FTP connection. There are many FTP programs to choose from and almost all of them are free of charge. However, when choosing an FTP client, please be sure to select one that allows for FTP over SSL (FTPS) as a a secure encryption option within its settings. The one we most often recommend is FileZilla.
FileZilla is free of charge and has versions available for both PC and Mac. Furthermore, FileZilla contains an explicit FTP over TLS setting which allows it to connect to our newer servers which require FTPS encryption to connect.
FileZilla may be downloaded here.
---
Connecting via FTP
To connect to your store's FTP, you will need the following information from your Shift4Shop Welcome Email
Server/Host
The name of server you'll be connecting to. Usually this will be your domain name.
Login
The username for your FTP account.
Password
The FTP password created for you during sign up
---
FTP folders
After you successfully connect to your site's FTP, you will see a series of folders. The majority of folders you'll need to be aware of are within the folder named "web." Here are the specific folder paths you should be aware of:
web/assets/images
This will contain all your product images and site files uploaded via the Online Store Manager's File manager.
web/assets/exports
This folder will contain a cache of your store's various CSV exports from the Online Store manager.
web/assets/templates
This folder will contain files pertaining to your installed theme templates. This folder will also contain the common template folder as described next.
web/assets/templates/common (or common-html5)
The common folders contain all of the original - untouched - template files for Shift4Shop stores. These folders cannot be written to, but you can download their templates for customization and editing purposes.
Important:
If you are using a non-responsive theme for your store, then you will use templates from the common folder. On the other hand, if your site's theme is responsive/html5, you will be using templates form the common-html5 folder instead.
---