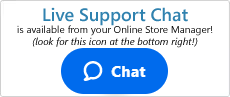 How do I activate my Barclay's Payment Gateway?
Merchants setting up the Barclay's Payment Gateway will first need to make their account live on the Barclay system, before the payment gateway can be used. During this activation process, you will be asked for the following information.
---
Allowed URL:
If you are using singlepage checkout, the Allowed URL is: https:/domain/checkout_one_payment.asp
If you are using multi-page checkout, the Allowed URL is: https:/domain/checkout4.asp
Note
Please substitute domain with your store's domain
---
Post URL:
For post URL, please enter: https:/domain/paymentreceive.asp?gw=barclays
---
Passphrase:
If the Barclays interface does not automatically provide one, then one will need to be created within the Barclays account.
Note
If you've already set up the Barclays payment gateway in your Shift4Shop store, the passphrase used for activation will be this one.
---
Post Username/Password:
This is not necessary for activation.
---