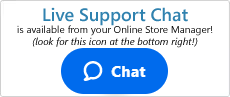 How do I set up PayPal Standard on my Shift4Shop Store?
Important
As of Shift4Shop version 10.2.10, this variant of PayPal is no longer available for selection. The information here is being provided solely for stores that may still have this PayPal variant currently installed.
For instructions on setting up the newest version of PayPal (a.k.a PayPal Checkout), please click here.
---
If you would like to add PayPal Standard as your store's payment option, this article will show you how.
Log into your Shift4Shop Online Store Manager
Using the left hand navigation menu, go to Settings >Payment
Then, look for the "Payment Methods" area and click on "Select Payment"
Once there, you will see a page with several pre-installed payment method options including PayPal Express, WePay and a "Pay by Check" option.
Note:
These pre-installed payment methods are not enabled by default and will still require credentials/settings in order to function. They are merely pre-installed for your convenience.
Within the "Additional Gateways" area, you will also see pre-created "Money Order" and "No Payment Necessary" options.
---
To Add Paypal Standard,
From the Online Payment Methods page:
Click on the "+Add New" button at the top right of the page.
Specify the country, state, order ranges and customer groups that this payment method will apply to
Then, from the Payment Method dropdown menu, scroll down to the "Alternative Payments" section and select "PayPal Payments Standard"
Click the "+Add" button (lower right) to proceed.
Configuring the Module
Your Payment Module will need to be tied to your respective PayPal account in order to accept payments. Fortunately, with PayPal Standard, this is a simple as adding your email address to the module.
Find your newly added "PayPal Payments Standard" and click on its "Settings" link
Enter the email address (associated with your PayPal Standard Account) into the field provided.
Click "Save" at the top right of the page to finish setting up the payment method.
Tip
If you'd like to edit the ranges, customer group and location settings from before, you may use the "Advanced Settings" button to edit these. This page will also allow you to specify a description and confirmation message for the payemtn option as well as changing the order status that it sends orders to.
Once your settings are all complete, click on the payment option's "Enable" button (located to the right of it). The button will turn green to indicate that the option is enabled and ready for use.
Note:
Since PayPal Standard is a redirect payment method - requiring the shopper to log into their respective PayPal account to pay and then redirect back to your store - please be aware that it will not be compatible with the Phone Order functions. As an alternative for using PayPal with Phone orders, you should consider using PayPal Pro instead for the phone order functions.
---