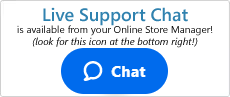 You do not have the permissions required to view this article, or the article does not exist.
Knowledgebase
Shift4Shop's Reserve Inventory app allows for merchants to protect their customers' carts in the event they need to sell time sensitive goods such as tickets to an event that may sell out quickly. This is a separate paid app that can be purchased on ...
Our team releases new updates to Shift4Shop each week. When an update is applied to your store, we automatically notify you via email and also include the release notes for it. This is to let our merchants know about new features or bug fixes we are ...