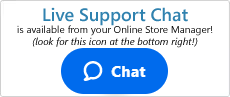 How does the Mailing Manager work?
You can use your Shift4Shop's interface to create and distribute newsletters to your customers and potential customers that sign up for your newsletters. These functions can be accessed by going to your site's Mailing Manager.
---
Enabling Mailing List
To allow visitors to subscribe to your newsletters, you will first need to make the mailing list feature available on your store. This is typically turned on by default, but in case you may have inadvertently removed it from your site, here's how you'd add it back.
Log into your Shift4Shop Online Store Manager and, using the left hand navigation menu:
Go to Modules
Look for the module labeled "Mailing List" and click on the + icon to expand the selection
Mark the "Enable Mailing List" checkbox
Click on the "Save" button found along the top right of the page.
With this option available, your store will now contain a "Subscribe" and "Unsubscribe" feature on your site's navigation bars and a text field where visitors can enter their emails addresses.
---
Newsletters
In the Newsletters section of your Shift4Shop Online Store Manager, you will find the various tools avialble for sending marketing newsletters directly from your Shift4Shop store.
Using the left hand navigation of the Online Store Manager, go to Marketing >Newsletters. From here, you will have the ability to create and send your store's Newsletters.
Towards the top right of the page however, you will see a button labeled "Actions." Clicking on this button will bring up the following additional tools for your marketing newsletters.
Note:
For the purposes of this article, we will be providing a quick overview of the sections. For more in-depth information, please view our Mailing Manager tutorial available by clicking here.
Manage Subscribers
This page will be used to manage your various mailing lists. The page can be used to view, edit, add, and delete addresses from your store's mailing list. You can also use this page to view your blacklisted email addresses. (Blacklisted email addresses are addresses that have unsubscribed from receiving your newsletters.)
Subscription Groups
Use this menu to create, manage, and edit different groups of Newsletter Subscribers.
SmartLists
A series of pre-configured and editable segmentation lists that can be used to send targeted email newsletters to your users. For example, newsletters for shoppers from a specific geographic location, or perhaps shoppers who have spent $X amount on the store. SmartLists allow you to create and edit the various SQL statements that will be used to customize the newsletter distribution.
Report
A built in report to help illustrate the effectiveness and impact of your newsletter capaigns.
---