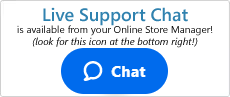 What is the Store's Wishlist Feature, and How Does it Work?
With Shift4Shop's Shopping Cart Software Wish List feature, your customers can browse through your store and add items to their account's profile. The Wish List function itself serves as a way for your customers to select and track their desired items for purchase at a later date. As a merchant, you will have the ability to view items that have been placed on wish lists for each of your customers and use the information for your own store tracking and marketing purposes.
For more in-depth coverage on the Wish List function, please review our online tutorial available here.
---
Enable Wish List
To use the Wish List feature, you must first enable it in your store. Log into your Shift4Shop Online Store Manager and, using the left hand navigation menu:
Go to Modules

Look for Wish List and click on the + icon to expand the module
Select the "Enable Wish List" checkbox
Click Save at the top right of the page
Aside from the enable checkbox, you will also see the following additional settings:
Allow Multiple Wish Lists
This will allow your customers to create multiple Wishlists for their personal use as needed.
Allow Public Wish Lists
This option will allow the customer the option of keeping the wishlist private to themsevles, or otherwise post it on social media and have others also view their wish list.
Wish Lists
This link will take you to your store's current wish lists. The same page can be also be found by going to Customers >Wish List in the left hand navigation menu.
With the wish list setting enabled, your products will now contain a link labeled "Add to Wish List" on the product listing pages. By clicking on this link, your customers will be asked to log into their respective accounts and the product will be added to their wish list. They can then review all of the products in their wish list and purchase them at a later date if/when desired.
---
View Wish List
As a merchant, you are able to view and track which of your products are being reserved on wish lists. This information can be helpful in determining demand for certain products.
To view your wish list items, go to Customers >Wish List.
Here, you will be presented with a list of each product that has been added to a wish list.
Use the button labeled "Details" to view specific details of the product to find out which customers have placed the item in their respective wish lists. You can then use the "Create Mail Group" button within the Wish List interface to send a product specific newsletter to these customers as well.
---