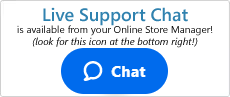 How Do I Set Up My Store's Gift Registry?
Your Shift4Shop store allows you to give your customers the option of creating a gift registry. A gift registry allows the customer to create a registry of products for their family and friends to view. Once a customer has registered, their friends can purchase the products selected for the registry and ship them directly to the registrant's address. The registry will automatically keep track of which products have been purchased and which ones are still available.
For a complete overview of the Gift Registry feature, please view our online tutorial available by clicking here.
---
Enable Gift Registry
To utilize the Customer Gift Registry option, you will first need to enable it on your store. Log into your Shift4Shop Online Store Manager and, using the left hand navigation menu:
Go to Modules
Look for and click on the Gift Registry module to expand the selection
Under the Gift Registry section, place a checkmark in the checkbox option labeled "Enable Gift Registry"
Specify whether Gift Registries will require a password (To be set by the customer creating the Registry)
Mark the "Send email when..." checkbox if you would like to be notified each time a Gift Registry is created
Enter the expiration date for the Gift Registries to determine how many days after the event the registry will be active
(The default is 90-days)
Click "Save" at the top right of the Store Modules page.
---
View Gift Registries
With the gift registry option enabled, your customers will have the ability to create their own registry and add products to it. After their registry is created, you will be able to view the details of the registry by going to Customers >Gift Registry. You can also use the "Gift Registry List" link found in the modules section described above.
Here you will see the registries listed with the following information:
customer's name
customer's email
registry's title
number of items in the registry
number of items sold from the registry
number of items sold from the registry Offline*
*Tip
The Sold Offline option is available for merchants who also have a physical, brick and mortar store. If a visitor purchases the Gift Registry item for the customer inside your store, you can mark the number of items puirchased by them in the Registry's "Sold Offline" field. The software will then update itself accordingly and show the item as having been purchased.
You will also be able to view the individual gift registry details to view specifics of the registry such as the customer's shipping address and their desired products contained within.
---