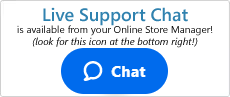 How do I Use My Store's CRM module?
Your Shift4Shop store also comes equipped with a built-in Customer Relationship Manager (CRM) module that can be enabled to allow your customers to communicate with you. With the CRM feature, your customers can email you specific questions regarding their orders and anything else regarding their purchases or account within your store.
This article will describe the basics of setting up Shift4Shop's CRM module. For a more in-depth tutorial, please click here.
---
Enabling CRM
In order to use the CRM feature, you must first enable the feature from your store modules section. Log into your Shift4Shop Online Store Manager and, using the left hand navigation menu,
Go to Modules
Look for the section labeled, "Customer Relationship Management (CRM)" and place a mark in the checkbox.
Click "Save" at the top right of the page to set the feature.
While enabling the function, you will see these additional settings:
Enable CAPTCHA for CRM
This checkbox will require that the user fill out a CAPTCHA verification in order to submit a ticket via the online form. (Recommended)
CRM Manager
This link will take you to a list of open CRM tickets that you might have pending. The same page can be reached by going to Customers >Customer Relations
Change Settings
This link will take you a special section of the CRM where you will be able to configure and edit the various status queues and departments that CRM tickets can be assigned to. (See Below )
---
As mentioned above, the "Change Settings" link will allow you to configure and edit your CRM ticket queues and departments. HEre's a quick explanation of this area.
---
Edit Status
On the left of the page, you will see the CRM ticket Statuses. Use this section to edit the ticket status designations your store will use for CRM tickets. By default, these are set to:
New
In Process
On Hold
Completed
---
Edit Departments
On the right hand side of the page you will see where you can Edit Departments.
When using the CRM enabled "Contact Us" form on your site (see below), you can specify which departments the tickets can be directed to. While the tickets themselves all direct to the same CRM application and address, a department designation will help in sorting the tickets out as needed.
---
Contact Us Form
With CRM enabled, you can also take advantage of the Shift4Shop contact us page for your site. This is a built-in contact form that can be placed on your site and is tied directly to your store's CRM module. It is normally present on your site by default but if you may have iunadvertently removed, here are instructions on how to add it back.
To create the "Contact Us" form follow these steps:
Go to Content >Site Content
In the "Menu Links" section, look for the "Contact Us" page and click its "Content" button.
Note: If it's missing, you can create a new menu link as well
In the page's Content section, make sure the following line is in the "Link" field
Click Save Changes
Your site will now have a contact form that is tied directly to your CRM module.
---