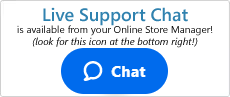 How do I make the DNS changes to my (non-Shift4Shop) registered domain?
The exact process differs for each domain registration company. To further complicate things, some registrars will use the term "Nameserver" rather than DNS when labeling the areas you'll need to go to for the DNS changes. Regardless of which term they use however, the basic set up is the same.
Important
Be aware that changing DNS server information on your domain name will point all aspects of the domain to Shift4Shop's services. This includes email @yourdomain and any sub-level domains you may be using.
If you require certain aspects of your domain to remain intact, please contact support before updating DNS. This will allow us to make any necessary changes to the DNS record here such as MX records for email or any other considerations.
Your registrar will have a section (either labeled DNS or Nameserver) with at least a primary and secondary DNS field specified for your domain. (Some registrars will have even more DNS fields available, but they will ALL have primary/secondary.)
Tip
The following instructions cover updating your domain's DNS record via the registrar service. These are companies (i.e. GoDaddy, Register.com, etc) that basically offer registration services for domain names to the general public. However, if you're not sure who your registrar is, check with your previous hosting company. Many hosting services offer domain registration as part of their hosting plans and may have registered the domain name for you originally. If so, it's very possible that they will also have methods within their system to either update your domain's DNS, or otherwise transfer ownership of the domain to your own registration so you can manage the domain as needed.
To update your domain's DNS, you will need to enter the following domain name servers.
Primary
DNS1.3DCART.COM
Secondary
DNS2.3DCART.COM
Tertiary
DNS3.3DCART.COM
If your registrar has only two DNS fields, then you will only need the first two Shift4Shop nameservers specified.
Alternately, if your registrar has MORE than three DNS fields, you may leave those blank.
---