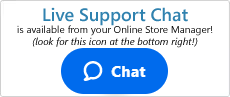 How do I use Product Reviews?
Shift4Shop allows you to have customer reviews enabled for your products. This is a feature by which your customers can submit reviews of products they have ordered and allow you to get a little "word-of-mouth" advertising for items you sell.
For more information on this feature, please read our full tutorial on Product Reviews by clicking here.
---
Enable Product Reviews
In order to use the Product Review feature, you must first ensure that it is available to your customers.
Go to Modules located in the left hand navigation of you Shift4Shop Online Store Manager
Look for the heading labeled "Product Reviews" and make sure the "Enable Product Reviews " checkbox is marked.
Click "Save" at the top right.
Your products will now all have a link labeled "Review this Item" which will allow your customers to add reviews to the items individually
Here's a brief explanation of the other settings found in that section:

Auto Approve Reviews
Reviews for your products will automatically be approved and displayed on the store front.
Hide Stars for zero Reviews
If a product has not been reviewed yet, then this checkbox will hide the stars shown for the product in category and home page views.
Allow upload of images

* version 8


Marking this checkbox will allow the users to upload images when leaving a review.
Reviews Allowed By
Allows you to specify who's reviews will be shown.

All Users
All of your store's users including visitors not registered on your store.
Registered Users
Reviews will only show by registered customers of your store
Verified Buyers
Reviews will only be shown for verified buyers of the product being reviewed. The store will use the customer's email address and compare it with orders for the item to determine if they are verified buyers.

Display Verified Buyer
If checked, then reviews left by verified buyers will show the user name as such on the store front.
Number of reviews on Product Page
The number of reviews that will be shown on the Product Page before displaying a "Show more" link.
Enable Product Review Emails
This feature allows you to have automated emails sent to purchasers of the product inviting them to review the item.
Click on the "Change Settings" link to change the frequency and wording of the email being sent.
Enable CAPTCHA for Reviews
Requires that the user enters a CAPTCHA verification before they are allowed to leave a review (recommended)
Allow Helpfulness Rating
Allows all users to rate the helpfulness of the review. Higher helpfulness rated reviews will show up first.
Allow users to edit reviews

* version 8


Mark this checkbox to allow the users to edit their reviews after submitting them. Note that approved reviews will revert to unapproved status if/when they are edited, and must be approved by you again. (If auto-approve is not enabled)
Enable Multiple reviews from Same IP
Allows reviews to be entered on multiple products form the same IP address for shoppers who would like to review additional products that they've purchased.

For more information on each of these settings, click here.
---
Manage your Product Reviews:
Using the left hand navigaiton of your Shift4Shop Online Store Manager, go to Products >Reviews
Your reviewed products will be displayed on this page. If necessary, you can also use the "Advanced" button to filter the page so that it shows only certain products, categories, distributors, manufacturers or price ranges.
The main product review page will show your products, how many reviews have been submitted for them, and how many new reviews each has received.
Click on the Product Name or look over to the far right and click on the "Action >Edit" button next to the product you'd like to manage reviews for.
On this subsequent page, you will see all of the reviews submitted for the product. This page will also have some "at-a-glance" properties that you can see. These are:
Rating
The rating your customer gave the the product on a scale from 1 to 5 stars
User Name
The username of the customer that left the review
Short Review
A short summary of the review
Approved
Y or N to indicate if the review has been approved or not
Review Date
When the review was submitted
Action
An "Edit" or Delete button specific to the review.
The "Edit" button will take you to the individual review where you can edit the review as well as set it to Approved Status.
Once the review is approved, it will display on your product's listing page.
---