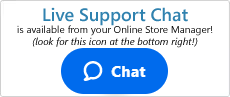 How do I add FuturePay as a Payment Method on my store?
Note
FuturePay is no longer available for new merchants. The following information is only applicable to current and existing FurturePay users.
If you are using FuturePay as your online payment gateway, the following steps will help you add it to your Shift4Shop stores.
Login to your Shift4Shop Online Store Manager
Using the left hand navigation menu, go to Settings >Payment
Next, click on the "Select Payment" button listed within "Payment Methods"
Click the +Add New button located at the top right.
For Country, select United States
For States, select "All"
Additional Information
FuturePay is not available for other countries, so having the Country drop down set to "All" will generate an error. Please be sure to set the country selection to United States before proceeding.
The State dropdown, on the other hand can be set to "All" or you can use the State selection drop down - if necessary - to limit this payment module's use to order from only one State.
Choose FuturePay in the Payment Method dropdown.
Additional Information
You can also use the "Order Amount Min" and "Order Amount Max" fields to set the order price ranges for which this module will appear. (Default is 0 to 99999 meaning that it will apply to all orders)
The Customer Group dropdown can also be used to limit this method to a specific pricing group. (Default is "None" which will only apply for your customers that are not assigned to a specific group)
Click the +Add button to add the module.
Now that you've added the module, you will need to configure it with your FuturePay account credentials.
Look to the "Additional Gateways" section of the page
In the newly inserted FuturePay module, click on the "Settings" link.
Click the "FuturePay" button to connect your store to the payment method.
You will be asked to Activate or Get Started.
Already Have a FuturePay Account?
If you already have a merchant account with FuturePay, click Activate.
Enter your FuturePay username and password then click the Activate FuturePay button to complete the set up!
Don't Have a FuturePay Account yet?
If you do not yet have a FuturePay account, click the Get Started link.
This will allow you to sign up for your merchant account and activate, all in one step!
Enter your company details and click Activate FuturePay.
Congratulations, your Shift4Shop store now offers FuturePay! Upon checkout, your shoppers will see the FuturePay payment option and instructions on how to use it.
---