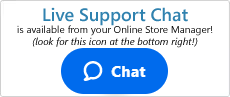 How do I install BuySafe?
To install BuySafe, you must first have an account with them. If you do not already have an account, please set one up. After your account credentials have been issued, please follow these instructions.
---
Enabling BuySafe
From your Shift4Shop Online Store Manager:
Using the left hand navigation, go to

Modules

and search for the "

BuySafe"

option
Click on its icon to expand the module and click on it "Settings" button
Check the Enable BuySafe in Shift4Shop checkbox
Enter your Store Authentication Data.
Enter your Seal Authentication Data
Note:
Both Authentication Status Data items are a string of numbers and letters generated by BuySafe for your account.
Specify the size of the seal that you'd like to use for your store
Click Save Changes
If you've entered the correct information to the proper fields, your "Authentication Status" will change from invalid to "OK"
---
Adding the BuySafe script
After saving, and while still in your BuySafe settings page:
Select all (CTRL-A) of the Seal Script that was generated for you
Copy (CTRL-C) the code
Navigate to your Online Store Manager's

Content

>

Header and Footer

section
Paste (CTRL-V) the copied code into your Global Left Banner (or Global Right Banner if you have a right banner and not a left)
Note:
Be sure the banner is "Enabled" on the store.
Click Save Changes at the top right of the page.
Your BuySafe seal is now installed.
To view your seal, go to your site and the seal should display on the bottom-right hand side of your home page.
Note:
Please be aware that if you are logged into your Online Store Manager and you try viewing your site, you will likely have the the Quick Design Bar activated on the browser. Unfortunately, the Quick Design Bar interferes with the placement of the BuySafe seal since they are both controlled via javascript.
Therefore, it is usually a good practice to view your site in a separate browser altogether to keep the Quick Design Bar from interfering in this case
---