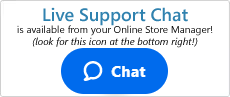 How do I edit my CSV files if I use OpenOffice Calc?
While not specifically a spreadsheet file on its own, a comma separated values (CSV) text file has an advantage in the fact that it can be viewed and read more comfortably in a spreadsheet program.
The most popular spreadsheet program available is Microsoft Excel which is part of the Microsoft Office Suite. However, an alternate set of office tools that has gained popularity is Apache's OpenOffice suite; which includes its very own spreadsheet program called Calc.
While similar in function to other spreadsheet programs, there are a few considerations to make when using OpenOffice Calc to ensure your CSV files are read and saved in the proper format for your Shift4Shop store.
---
Opening a CSV file in OpenOffice Calc
When you export a CSV file from your store to your desktop and open it in OpenOffice Calc, you will be prompted with an import function that will let you import the text file into the correct columns and rows of the spreadsheet.
Within that import window, you will see a section labled "Separator Options" which will need to have the following settings defined to open your CSV file correctly.
Separated By
Select this radio button instead of "Fixed Width" so that you can specify what the file's delimeter is.
Comma
Then, place a check mark into the "Comma" checkbox.
Make sure all the other checkboxes are left blank.
Text Delimeter
Towards the end of the separator section, you will see a drop down menu labeled "Text delimiter" with two options. Be sure to set this to " or doublequotes option.
The rest of the fields in this window can usually be left untouched, so once you've set the settings described above, click "Ok" and your CSV file will open into the OpenOffice Calc Program
---
Saving a CSV file in OpenOffice Calc
Once you are finished editing and tailoring your CSV file, you can save it by using these steps in OpenOffice Calc
Go to the file menu at the top and select "Save As"
As you name your file, look below the "File name:" field and open the "Save as type:" dropdown menu
Select "Text CSV (.csv)"
Click "Save" to continue
Additional Information
At this point, you may get a message stating that document may contain formatting that is not compatible with the CSV format. This is because you're saving the file as CSV. As mentioned earlier, CSV is not native to spreadsheet programs but rather a form of text file. If this message appears, simply click on the "Keep Current Format" button to continue.
After selecting "Keep Current Format" you may see second dialoge window pop up with additional field options similar to the ones from before. Just be sure to have "Field delimeter" set to , and Text delimeter set to " before clicking on the "OK" button.
Your CSV file should now be ready to use on the Shift4Shop store.
---