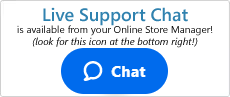 How do I set up a Custom 404 Page?
On any website - when a visitor tries to access a page which does not exist - they will generally get what's known as a 404 error. This is typically a standard error message which tells the visitor that the page "could not be found."
On your Shift4Shop store, if someone tries to access a non-existent page on your site, the default action is that they will simply reach a blank page. However, you can create your own 404 page to further customize the way the 404 error looks to your visitors.
To do this, simply create your HTML page and name it 404.html and upload it via FTP to your site's theme folder.
Tip:
For example,if you are using theme v40001 then you would upload the custom 404.html page to your FTP server's web/assets/templates/v40001
---
Alternative Method
As an alternative to using FTP, another option would be to edit the default 404.html page found in the common folder. To do this:
Navigate to Settings >Design >Themes & Styles
Once there, click on the "More" button found at the top right of the page and select "Edit Template (HTML)"
Next, click on the "Go to folder:" drop down menu at the top right and select your store's common-html5 folder.
Locate the default 404.html template and click on the Action Wheel to the far right of it and select "Edit"
This action will copy the template from the common folder and place it in your Theme Folder so it can be edited as needed.
You are free to design the custom 404 page however you wish. Some popular variations include:
an error message with your company logo to ensure visitors that they're at the right site.
links to your site's home page so the visitor may try again
a message letting your visitor know they should update their bookmarks as needed.
---