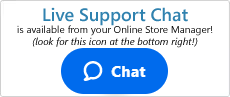 What is the IP Address of the SMTP server used for my outgoing order notifications ?
The outgoing emails from your online store are not sent out by a specific mail server as the emails are being sent out by a pool of servers using a round-robin selection process. The emails will be coming from different servers at any given time. We cannot give out the IPs of the pool as this is a security risk and against policy.
If you prefer to use your own SMTP server or a third-party SMTP provider for your outgoing emails, check our article on this topic.
---