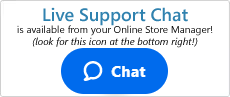 Shift4 Payments FAQs: Why are transactions failing?
I just finished registration for my webstore, and it is up and running. Why are transactions failing?
Newly registered merchants may experience a short delay while some system settings are finishing the process of being configured in the background. Typically, this delay will only last a few minutes, but in some cases could take up to an hour before you will be able to accept transactions through your e-commerce website in some circumstances.
---