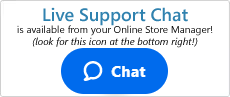 How Do I Set the Sorting of Home Page Specials?
In a previous article, we described how to control your Home Page Special Items.
You can also specify the way the Home Special items are sorted on the home page.
Log into your Shift4Shop Online Store Manager
Go to Settings >General >Store Settings
Click on the "Display Options" tab found along the top
In the Home Page section, look for and set the "Home Page Sorting" dropdown as needed.
This selector lets you set the default sorting for the home page based on product information features such as the name of the products, pricing, stock levels and even the Extra Fields (1 through 5) set on the products.
Note
The selector itself has an option labeled "Order By" at the top of the list. Normally, this option is used when you want to give the site visitor the option of selecting the sorting option they'd like to see on the page. However, this selection does not work on the home page because the sorting on the home page cannot be changed by the shopper/site visitor (as with the category and browse by manufacturer pages).
Therefore, on the home page sorting, please select one of the other sorting options.
After you've made your Home Page Product Sorting selection, click "Save" at the top right to commit your change.
Additional Information
The sorting you select will work regardless of whether your items are physically marked as Home Specials or if they are Randomly assigned as Home Specials. For example, if you use Random Home Specials and sort based on Price from Low to High, Randomized items will still be listed in this order.
---